National Institute of Justice (NIJ)
The National Institute of Justice (NIJ) focuses on research, development, and evaluation of crime control and justice issues. NIJ provides objective, independent, evidence-based knowledge and tools to meet the challenge of criminal justice, particularly at local and state levels. NIJ funds research, development, and technology assistance. NIJ also assesses programs, policies, and technologies. NIJ publicizes the research it conducts and the evaluation findings through conferences, reports, and the media.
NIJ Website
NIJ has six operating offices:
The Office of Research and Evaluation develops, conducts, directs and supervises research and evaluation activities across a wide variety of issues.
The Office of Science and Technology manages technology research and development, development of technical standards, testing, and technology assistance to state and local law enforcement and corrections agencies.
The Office of Investigative and Forensic Sciences improves the quality and practice of forensic science through innovative solutions that support research and development, testing and evaluation, technology, information exchange and the development of training resources for the criminal justice community.
The Office of Research Partnerships initiates, manages and coordinates criminal justice partnerships with agencies and organizations within and outside the U.S. Department of Justice.
The Office of Operations manages NIJ's budget, planning and administrative activities.
The Office of Communications disseminates information by integrating publishing, conferencing, marketing and outreach activities.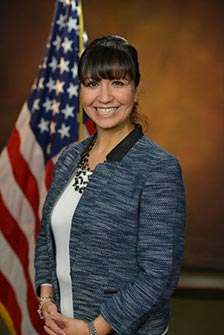 Dr. Nancy Rodriguez
Director
About Nancy,
Nancy Rodriguez was sworn in as the director of NIJ on February 9, 2015. Dr. Rodriguez's research expertise covers a wide range of criminal justice issues from the collateral consequences of imprisonment; the intersection of race, ethnicity, crime, and justice; to evaluations of drug courts and restorative justice programs. Her most recent work includes a longitudinal study of families affected by maternal and paternal incarceration.
From 1998–2012, Dr. Rodriguez was a professor in Arizona State University's (ASU) highly respected School of Criminology and Criminal Justice. She was named Associate Dean for Student Engagement in ASU's College of Public Programs in 2012.
A prolific writer, Dr. Rodriguez's work has appeared in numerous peer-reviewed journals, including Criminology, Journal of Research in Crime and Delinquency, Criminal Justice and Behavior, Violence Against Women, Justice Quarterly, Crime & Delinquency, and Annals of the American Academy of Political and Social Science. She has co-authored two books: Just Cause or Just Because? Prosecution and Plea-bargaining Result in Prison Sentences of Low-level Drug Charges in California and Arizona and, most recently, Immigration Enforcement, Youth and Families: Policy in the Absence of Comprehensive Immigration Reform. She was co-editor of the 2006 book Images of Color, Images of Crime: Readings. Dr. Rodriguez's work has been recognized by some of the nation's top criminal justice professional organizations. In 2011, the Division on People of Color and Crime of the American Society of Criminology gave her the Coramae Richey Mann Award, and ASU's College of Public Programs gave her the Anne Larason Schneider Faculty Endowment for Community Research Award. She received the W.E.B. DuBois Award from the Western Society of Criminology in 2010. In 2009, she was named Alumni of the Year by the College of Criminal Justice at Sam Houston State University, and in 2015, she received the Outstanding Alumni Award from the Department of Criminal Justice and Criminology, Washington State University.
A native of El Paso, Texas, Dr. Rodriguez earned a Bachelor of Science in criminal justice from Sam Houston State University. She received her doctorate from Washington State University, in Pullman, Washington, where she concentrated in administration, justice, and applied-policy studies. She was appointed by President Barack Obama in October 2014 to head up NIJ, the scientific research arm of the U.S. Department of Justice.
Date Modified: February 9, 2015
NIJ Director's Corner