Bureau of Justice Assistance (BJA)
The Bureau of Justice Assistance (BJA) provides leadership and assistance to local criminal justice programs that improve and reinforce the nation's criminal justice system. BJA's goals are to reduce and prevent crime, violence, and drug abuse and to improve the way in which the criminal justice system functions. In order to achieve such goals, BJA programs illustrate the coordination and cooperation of local, state, and federal governments. BJA works closely with programs that bolster law enforcement operations, expand drug courts, and provide benefits to safety officers.
BJA Website
BJA is comprised of three key areas: Policy, Programs, and Planning
The Policy Office acts as a national leader for criminal justice policy, training, and technical assistance to advance the direction of justice. It also acts as a connecting point with national organizations to set policy and help broadcast information on the best practices.
The Programs Office organizes and manages all state and local grant programs. It functions as a direct line of communication to states, territories, and tribal governments because the office is responsible for providing assistance and coordinating resources.
The Planning Office is responsible for providing overall BJA-wide coordination. It handles planning, communications, and budget formulation and execution.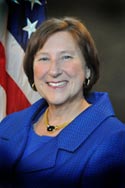 Denise E. O'Donnell
Director of Bureau of Justice Assistance
About Denise
Denise E. O'Donnell was sworn in as the Director of the Bureau of Justice Assistance (BJA) on June 6, 2011, after being nominated for the post by President Obama and confirmed by the United States Senate. BJA is a national leader in the development and implementation of data-driven, research-based criminal justice policy and sound grant administration. BJA currently oversees a portfolio of over 10,000 open grants in excess of $5 billion dollars.
In 1985, Director O'Donnell joined the U.S. Attorney's Office in the Western District of New York and worked as a career federal prosecutor for more than a decade. She was appointed United States Attorney by President Clinton in 1997 and served as the top federal prosecutor in western New York from 1997-2001. Director O'Donnell served as Vice Chair of the U.S. Attorney General's Advisory Committee in Washington, D.C., where she was a member of the Investigations & Intelligence, Northern Border, and Civil Rights subcommittees.
Prior to joining BJA, Director O'Donnell served as the Deputy Secretary for Public Safety in New York State, overseeing 11 homeland security and criminal justice agencies, and as Commissioner of the New York State Division of Criminal Justice Services, the state administrative agency for BJA funds. Director O'Donnell served as Chair of the New York State Commission on Forensic Science from 2009-2011 and as Chair of the New York State Commission on Sentencing Reform from 2010-2011. She was a member of the Conviction Integrity Advisory Panel for the Manhattan District Attorney's Office and of the Chief Judge's Wrongful Convictions Task Force in New York.
Director O'Donnell obtained a Master's Degree in Social Work from the State University of New York at Buffalo, and graduated summa cum laude from the University at Buffalo Law School.
Read More at BJA.gov