Office of the Assistant Attorney General (OAAG)
The Office of the Assistant Attorney General (OAAG) is responsible for the overall management and oversight of OJP. This includes setting policy; ensuring that OJP policies and programs reflect the priorities of the President, the Attorney General, and the Congress; and promoting coordination among the OJP offices and bureaus.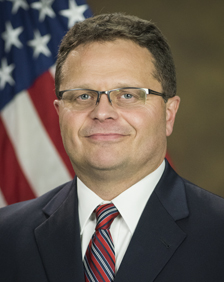 Matt M. Dummermuth
Principal Deputy Assistant Attorney General
About Matt
Matt M. Dummermuth assumed leadership of the Office of Justice Programs as Principal Deputy Assistant Attorney General in September 2018.
Matt is a Justice Department veteran, having served most recently as U.S. Attorney for the Northern District of Iowa from 2007 to 2009. Under his leadership, the U.S. Attorney's Office – in close coordination and cooperation with federal, state and local law enforcement in the largest law enforcement operation in Iowa history – successfully orchestrated the nation's most successful criminal immigration worksite enforcement action. The action resulted in the convictions of more than 300 illegal immigrants for various document fraud, aggravated identity theft and other immigration-related offenses, and the convictions of the company's day-to-day CEO, CFO, controller, operations supervisors and entire human resources department for various bank fraud, document fraud and related offenses.
Under his leadership, the U.S. Attorney's Office also prosecuted record numbers of child exploitation defendants and launched an Internet-predator warning program that reached more than 42,000 students in 150 middle schools. In addition, he created the first human trafficking task force in Iowa, bringing together law enforcement agencies and victim assistance organizations to combat trafficking operations and provide services to trafficking survivors. During his tenure, the office also convicted 26 defendants, including 19 doctors, for illegally distributing more than 30 million prescription pills using 500,000 phony prescriptions, and shared with local law enforcement more than $4 million of the $7 million seized from the two Internet pharmacy companies and other defendants involved in the illegal scheme.
Matt previously served in the Justice Department as Counsel and Special Assistant to the Assistant Attorney General for Civil Rights, and as a Special Assistant United States Attorney in the Eastern District of Virginia. Prior to joining OJP, Matt was in private practice in Iowa where he focused primarily on civil litigation involving constitutional, governmental, agricultural and business matters. In addition, Matt represented more than 300 female parolees in state felony parole revocation matters and advised more than 2,000 inmates in five Iowa prisons about their constitutional and civil rights relating to their convictions and conditions of confinement.
Matt graduated from Harvard Law School, where he was editor-in-chief of the Harvard Journal of Law & Public Policy, and clerked for the Honorable Judge David R. Hansen of the U.S. Court of Appeals for the Eighth Circuit. Prior to law school, Matt grew up on a crop and livestock farm in Iowa and graduated with a degree in agricultural engineering from Iowa State University. Matt and his wife Becky have five children.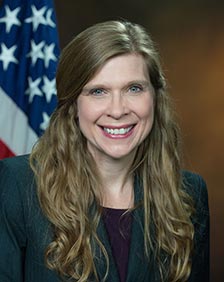 Maureen Henneberg
Deputy Assistant Attorney General for Operations and Management
About Maureen
Maureen A. Henneberg is the Deputy Assistant Attorney General for Operations and Management. In this position, Ms. Henneberg advises the Assistant Attorney General on management and operational issues within the Office of Justice Programs (OJP). She oversees the OJP business offices, including the Office of the Chief Financial Officer, Office of Administration, Office of Audit, Assessment, and Management, Office of the Chief Information Officer, Office of Communications, and the Office of Equal Employment Opportunity. Ms. Henneberg was appointed to the position in February 2015, after serving as Acting Deputy AAG beginning in February 2014.
Prior to this position, Ms. Henneberg headed OJP's Office of Audit, Assessment, and Management as its Director beginning in January 2009. In this capacity, Ms. Henneberg led the review of OJP's critical financial processes, grants management activities, and grant programs to ensure compliance and proper internal control, and to promote integrity, accountability, and sound stewardship and management of OJP's grant programs and operations.
Ms. Henneberg was a senior manager in OJP's Bureau of Justice Statistics (BJS) where she served as Deputy Director overseeing the bureau's planning, management, and budget activities, publication and dissemination operations, and programs designed to improve crime information and statistics at state and local levels. Ms. Henneberg began her career with BJS in 1990 as a Presidential Management Intern and served in several capacities over her 18-year tenure, including Acting Director, Associate Director of Planning, Management, and Budget, and Acting Chief of Criminal History Improvement Programs.
Ms. Henneberg serves on various federal working groups and task forces addressing issues such as data quality, open government, and detection and prevention of grant fraud.
Ms. Henneberg earned a Master of Public Administration with a concentration in judicial administration from American University, Washington, D.C. in 1990. She graduated magna cum laude with a Bachelor of Arts degree in Political Science, and minors in criminal justice and public administration, from the State University of New York at Geneseo in 1988. Professional interests and research efforts over the years have focused primarily on criminal justice issues, program assessment and performance measurement, grants management, risk management, and strategic planning.