Contact Us
Mailing Address
Office of Justice Programs
U.S. Department of Justice
810 Seventh Street NW
Washington, DC 20531
Phone: 202-514-2000
Email OJP
Media and Congressional Inquiries
Civil Rights Matters
Questions on Grants
For information on how a state intends to distribute formula grant funds, contact your State Administering Agency.
For information on special conditions for grants involving Information Technology, contact your IT Point-of-Contact.
For questions about your grant, contact the Customer Service Center at 1-800-458-0786 (TTY: 202-616-3867) or Email ask.ocfo@usdoj.gov.
Reference and Research Assistance
Technical Assistance
Grants Management System (GMS) Help Desk – 202-514-2024
OJP Help Desk – 202-307-0627 or (toll free) 1-888-549-9901 option 3
Directions to OJP
OJP Location
Office of Justice Programs
810 Seventh Street, NW
Washington, DC 20531
202-307-5933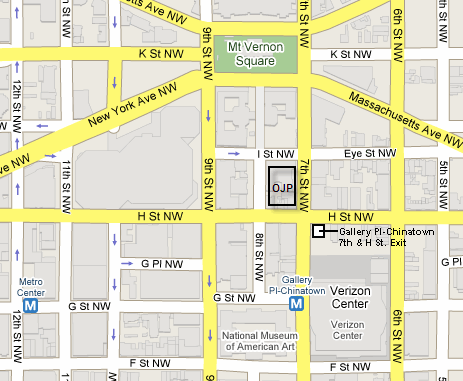 Metrorail Access
OJP is easily accessible by Metrorail. Gallery Place-Chinatown is the nearest stop, which is accessible via the Red, Yellow, and Green lines.
From the Gallery Place station, take the 7th and H Streets exit. Cross to the northwest corner of 7th and H Streets and proceed up 7th Street about 1/2 block. The entrance to 810 will be on your left.
Bus Access
Metrobus Service
Metrobus has several routes and stops near the OJP office:
70, 71 (on 7th Street)
42 (on 9th Street)
80, P6, X2 (on H Street)
DC Circulator
The DC Circulator red line (Convention Center-SW Waterfront route) has stops near the OJP office. The red line runs every 10 minutes from 7:00 a.m. to 9:00 p.m.
Parking
On-street parking around the Gallery Place area is extremely limited. Therefore, we encourage you to use public transportation. Parking is available in commercial garages for $12 to $15 per day.