Office of Juvenile Justice and Delinquency Prevention (OJJDP)
The Office of Juvenile Justice and Delinquency Prevention (OJJDP) assists local community endeavors to effectively avert and react to juvenile delinquency and victimization. Through partnerships with experts from various disciplines, OJJDP aims to improve the juvenile justice system and its policies so that the public is better protected, youth and their families are better served, and justice-involved youth are held appropriately accountable. OJJDP develops, implements, and monitors programs for juveniles. The office also supports many research, program, and training initiatives; develops priorities and goals and sets policies to guide juvenile justice issues; disseminates information about juvenile justice issues; and awards funds to states to support local programming nationwide.
OJJDP Website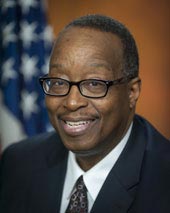 Robert L. Listenbee, JD
Administrator
About Robert,
Robert L. Listenbee is the Administrator of the Office of Juvenile Justice and Delinquency Prevention (OJJDP). Before his appointment to OJJDP, Mr. Listenbee was Chief of the Juvenile Unit of the Defender Association of Philadelphia for 16 years and was a trial lawyer with the association for 27 years; he was also instrumental in creating the Juvenile Defender Association of Pennsylvania. Throughout his career, he has served on multiple state and national organizations and commissions that advocate for gender, race and ethnic fairness in the treatment of juveniles and improvements to juvenile justice policy and juvenile indigent defense, including the National Legal Aid & Defender Association and the National Juvenile Defender Center.
Mr. Listenbee served as co-chair of the Attorney General's National Task Force on Children Exposed to Violence and as member of the Federal Advisory Committee on Juvenile Justice, which advises the President and Congress. He received his B.A. degree from Harvard University and his law degree from the Boalt Hall School of Law at the University of California, Berkeley.
View full biography