VOCA Formula Victim Assistance Grant Program Final Rule

The Victims of Crime Act (VOCA) Formula Victim Assistance Grant Program final rule became effective on August 8, 2016.

Record of Progress and Roadmap for the Future

The Federal Interagency Reentry Council provides an overview of its accomplishments and charts a course for implementing policy changes and ensuring the council's efforts continue to guide the reentry field.

We at the Office of Justice Programs offer our condolences to the families, friends and colleagues of the brave law enforcement officers killed in Dallas and Baton Rouge.
HOT TOPICS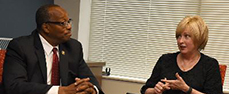 Reconsidering Juvenile Life Sentences blog
Montgomery will have a far-reaching impact, not only on those now eligible for a life beyond the prison walls and their family members, but also on the family members of victims of these crimes.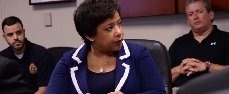 Attorney General Loretta E. Lynch Delivers Remarks in Orlando
The Attorney General announces funding from OJP's Office for Victims of Crime and Bureau of Justice Assistance to support Orlando victims and responders.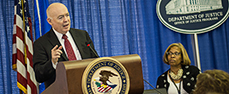 Federal-State-Local Cooperation in Animal Welfare Enforcement
"We feel safer if they are safe." This was a sentiment voiced during a recent roundtable discussion on Animal Welfare Enforcement that the Environment and Natural Resources Division (ENRD) and Office of Justice Programs hosted at the Justice Department.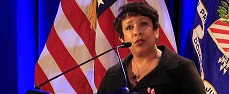 Attorney General Loretta E. Lynch Delivers Remarks at National Law Enforcement Conference on Child Exploitation
In 2015 alone, 61 coordinated ICAC task forces representing more than 3,500 federal, state and local law enforcement and prosecutorial agencies conducted more than 54,000 investigations that resulted in the arrest of more than 8,500 individuals.

ON THE JOB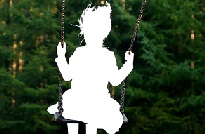 Lou Ann Holland, Office of Juvenile Justice and Delinquency Prevention, Program Manager
She uses her background in law and public administration to award and monitor funding to support programs that protect children from abduction, abuse and internet crimes.