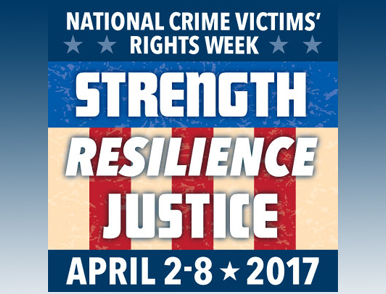 National Crime Victims' Rights Week (NCVRW)
OVC helps lead communities throughout the country in this weeklong initiative to promote victims' rights and honor crime victims and those who advocate on their behalf. The theme for 2017 is Strength. Resilience. Justice.
Date: April 2-8, 2017

Our Vision
Safe, Just and Engaged Communities

Our Values
Equal Justice Fairness and Transparency
Community Engagement
Strong Science
Effective Stewardship

Our Mission
To provide leadership, resources and solutions for creating safe, just and engaged communities.