Federal School Safety Report Emphasizes State, Local Role
Monday, January 28, 2019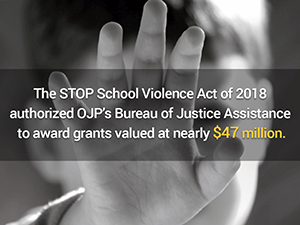 In an effort to help local communities promote school safety, the Office of Justice Programs provides grant funding, information and research as part of what the final report of the Federal Commission on School Safety notes is the federal government's shared responsibility.
In the report's letter to President Trump, the commissioners write, "There is no universal school safety plan that will work for every school across the country. Such a prescriptive approach by the federal government would be inappropriate, imprudent and ineffective."
The report recommends that federal agencies promote readily available resources and programs and emphasizes the need to share "ideas that are already working for communities across the country."
For example, research shows that many eventual school shooters experienced bullying or isolation. The website www.StopBullying.gov, which provides an online course on bullying prevention at no cost, and the U.S. Department of Education's Office of Safe and Healthy Students offer guidance. Recommendations range from providing resources that assist schools in developing positive climates and feelings of connectedness to encouraging training for those who work with children to recognize signs and symptoms of mental illness.
The report highlights, among other products, OJP's toolkits on police-mental health collaboration and helping victims of mass violence; research on indicators of school crime and safety; and a guide on preventing school-based bullying with related research.
The commission underscored funds available through the STOP School Violence Act of 2018, a centerpiece of the Trump Administration's response, which provides funding for evidence-based programs. The act authorized nearly $47 million for grants from OJP's Bureau of Justice Assistance last fall, as well as $25 million through the Office of Community Oriented Policing Services, to states, units of local government and federally recognized Indian tribes.
President Trump established the commission following the tragic February 14, 2018, shooting in Parkland, Florida, that left 17 people dead. Secretary of Education Betsy DeVos served as chair and Homeland Security Secretary Kirstjen Nielsen, Health and Human Services Secretary Alex Azar II and Acting Attorney General Matthew Whitaker were members. Their work included field visits, listening sessions and meetings focused on identifying solutions.
In the report, the commission provides a thorough blueprint for preventing, protecting from and mitigating violent incidents in our schools—a goal that requires the involvement of all Americans.
"Ultimately, ensuring the safety of our children begins within ourselves, at the kitchen table, in houses of worship, and in community centers," the commission's letter to President Trump says. "The recommendations within this report do not and cannot supplant the role families have in our culture and in the lives of children. Our country's moral fabric needs more threads of love, empathy, and connection."