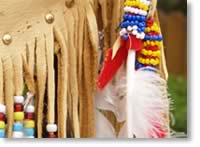 Support to Indian Country Youth
More than half of the American Indian and Alaska Native population are youth, and many of these young people face significant obstacles to a safe and happy childhood, a sound education, and job opportunities. Violence, victimization, single-parent households, and child maltreatment place incredible burdens on American Indian and Alaska Native youth. In response, the community and tribal governments are focusing juvenile justice efforts on protective factors.
The Office for Victims of Crime, the Office of Juvenile Justice and Delinquency Prevention, and other OJP bureaus provide direct funding, training and technical assistance, and conduct research and evaluation to prevent, treat, and control juvenile delinquency and address juvenile victimization among American Indian and Alaska Native youth. Visit the Department of Justice's Tribal Justice and Safety Web site to learn about resources to address crime and victimization in Indian country.