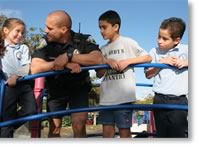 Gang Resistance Education And Training Program
The Gang Resistance Education And Training (G.R.E.A.T.) Program, managed by the Bureau of Justice Assistance in partnership with organizations including the Boys & Girls Clubs of America and the National Association of Police Athletic Leagues, serves as an immunization against delinquency, youth violence, and gang membership. This law enforcement officer-instructed program, taught in schools, encourages positive relationships among the community, parents, schools, and law enforcement officers. The program moves from the classroom to community parks once summer vacation begins, offering students an opportunity to enhance their social skills, giving them alternatives to gang involvement, and adding structure to the summer months.
Find out more about the G.R.E.A.T. Program and its summer component.