On the Job
The life of a Bureau of Justice Statistics 'rock star'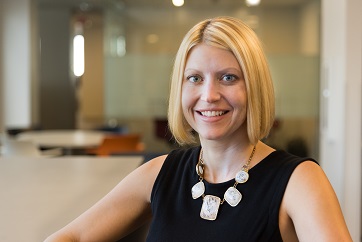 WASHINGTON -- The parallels might not be obvious, but Lynn Langton, chief of the Victimization Statistics Unit at the Bureau of Justice Statistics (BJS), says the daily work of a BJS statistician is not unlike the life of a rock musician: busy, unpredictable and highly rewarding.
"The great thing about this job is that there's really not a 'typical' day," said Langton. "One day it's analyzing new data to understand patterns and trends in victimization; the next day dealing with methodological issues to improve survey estimates; and another time developing new survey questions to address gaps in what we know about crime or victims' response to crime; and then we release our next album."
Comparing BJS's daily work to the life of a rock star may seem far-fetched, but Langton just may be on to something—BJS staff have followers across the globe and they regularly produce material seen and heard by millions of people. In their case, that material is criminal justice data used by journalists, scholars, researchers and the public at large.
Although she and her colleagues are not in the business of marketing a brand, Langton wants people to know about the high quality and useful data BJS produces each year.
"The National Crime Victimization Survey (NCVS), our flagship survey, was started in the 70s as a way to measure the 'hidden figure' of crime—crimes that aren't reported to police," said Langton. "Without a survey like the NCVS, we'd have a limited picture of the true level and impact of crime in this country, especially when it comes to some of the most sensitive crime types and most vulnerable populations."
Other countries look to the NCVS as a model for how to get a more unbiased and accurate sense of crime problems and the resources needed to address them, according to Langton. And that amounts to a very intense workload for the Victimization Statistics Unit at BJS, especially with the high volume of data analysis, interpretation and organization required before information can be published.
"There are lots of challenges, some more fun to work through than others," she said. "One thing that comes to mind is dealing with changing perceptions of timeliness now that we're all very used to having real time information at our fingertips constantly. Getting a new year of NCVS data (or other federal statistical data) isn't quite like refreshing a news feed, but that's the expectation to some degree. Collecting, processing and disseminating valid, reliable and representative statistics takes time and cutting corners at any stage could have a big impact on the estimates."
Langton has been at OJP for almost 11 years—all of them at BJS. Prior to her work at BJS, she earned her Ph.D. and taught undergraduate criminology courses at the University of Florida. However, she discovered that it takes a special type of person to be a teacher, and she quickly realized she's not that person. She decided she wanted to do something that directly affects criminal justice policy.
She seems to have found a good fit at BJS.
"We deal with so many critical issues that are in the news every day, from the sexual victimization of college students, to hate crime, to perceptions of police, to deaths in prison," she said. "These are difficult topics but so important to fully understand. Without good data on the problem, it's hard to come up with good solutions."
BJS statisticians may not generate the kind of tabloid buzz that follows rock stars, but the work they do reaches a wide audience and lands a big impact.