Communication Coordinator Highlights OJJDP
Friday, February 10, 2017
By Kara McCarthy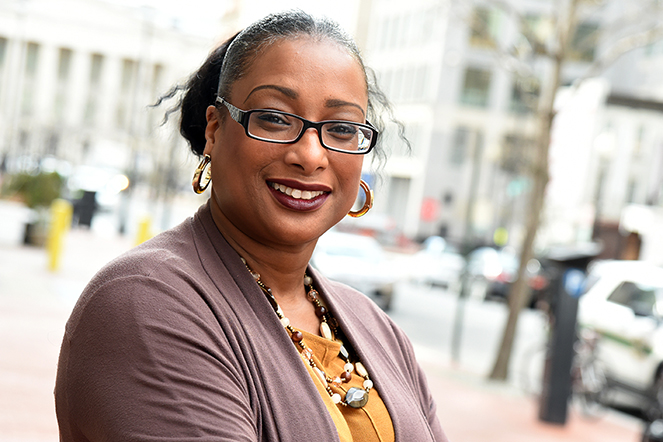 In an office whose mission is to shape national juvenile justice policy, the communication coordinator plays a vital role.
Anna Johnson, the current communication coordinator for the Office of Juvenile Justice and Delinquency Prevention, has been handed a great deal of responsibility – and she has eagerly taken on the challenge.
OJJDP is the federal focal point for serving youth who become involved or are at risk of becoming involved in the juvenile justice system, which means her department has a big job getting the message out about the work of OJJDP to the world. OJJDP provides national leadership, coordination, and resources to prevent and respond to juvenile delinquency and victimization. OJJDP also supports states and communities in their efforts to develop and implement effective and coordinated prevention and intervention programs and to improve the juvenile justice system so that it protects public safety, holds justice-involved youth appropriately accountable, and provides treatment and rehabilitative services tailored to the needs of juveniles and their families.
"The most rewarding aspect of this job is learning that our stakeholders received OJJDP's grants or programs that allowed them to help youth in their community," she said.
A typical day in the office for Anna can include meeting with federal and contract staff to plan and carryout OJJDP's daily activities. These tasks include: managing publication and policy development, drafting speeches; developing social media posts; creating videos; and processing correspondence, solicitations, and funding recommendation memos.  Anna also sets aside time to plan and prepare for upcoming events, release of publications, production of OJJDP's bi-monthly newsletter, among other projects, to ensure they are completed on schedule.
OJJDP oversees and participates in a wide range of Department of Justice federal grant programs designed to assist communities establish and improve youth safety and justice programs, including initiatives in mentoring, anti-bullying, violence prevention, missing and exploited children, and efforts to end ethnic and racial disparities in the juvenile justice system.
 Anna is responsible for managing communications ahead and during the launch of major events, most recently the Department of Justice's Changing Minds national public education campaign. The campaign was launched late last year to raise awareness, teach skills, and prompt public action in response to address children's exposure to violence and trauma.
"Since accepting this position 2014, I've supervised the drafting of nearly two hundred speeches, published 24 newsletters and circulated any number of publications, policy papers and fact sheets," she says.  "The information has to be accurate, relevant and reader friendly, which isn't an easy task.  And, it has to be above scrutiny."
Anna is also proud of OJJDP's award-winning, bimonthly newsletter, OJJDP News @ a Glance, which contains information on grants, programs and training, and write-ups on various events that highlight the work of OJJDP and its grantees, she said.
Still, her duties promoting OJJDP's work are not without their challenges, Johnson said. The office's activities draw significant attention from the media, Congress and the thousands of professionals across the country who work with youth, so she is diligent about ensuring the public receives information that is accurate and factual. She draws from her experience as a communications professional.
 "I've learned a lot in this position, but I also credit my time in the Office of Communications for preparing me to take on this challenge," she said.  "So far, I'm loving it."
Since beginning employment at OJP 10 years ago, Anna has worked within the Office of Communications as a congressional and intergovernmental affairs specialist, where she was responsible for stakeholder outreach to increase awareness of OJP's policies, programs and activities. She also planned and coordinated OJP special events, provided technical guidance on the preparation of agency publications, and reviewed bureaus' policies and positions on complex and controversial issues. She's also served  as the Assistant Attorney General's scheduler and Acting Deputy Director for Public Affairs in the Office of Communications.
When asked about her successes at OJP, Johnson downplays her contributions and chooses to focus on the achievements of her OJJDP colleagues, as well as how they inspire her.
"They are dedicated, motivated and fierce advocates for the programs, policies and initiatives that help today's youth," she said. "Most people run away from the issues they deal with on a daily basis – youth crime, child abuse, missing and exploited children – but they are finding ways to help. The staff have diverse and prestigious backgrounds and it is wonderful that they have brought that talent to OJJDP. I'm just proud to be here to promote what they do."