Meet Yahya Fouz, Office of Sex Offender Sentencing, Monitoring, Apprehending, Registering, and Tracking, Senior Policy Advisor
Wednesday, October 25, 2016
By Kara McCarthy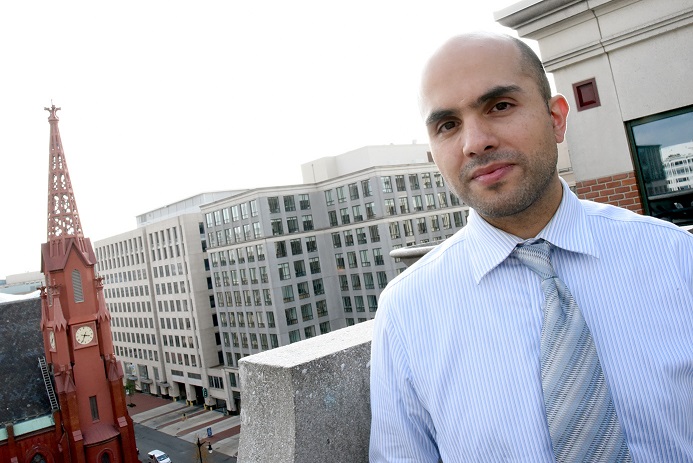 He works daily with some of the most disadvantaged communities in the United States to safeguard them from one of the most underreported crimes in the country--sexual violence.
Yahya Fouz serves as the Senior Policy Advisor for Indian Country within the Office of Sex Offender Sentencing, Monitoring, Apprehending, Registering, and Tracking (SMART). He is responsible for evaluating and assessing sex offender registration and notification management systems to determine whether tribes have "substantially implemented" Title I of the Adam Walsh Act, the Sex Offender Registration and Notification Act (SORNA), which was designed to protect children and vulnerable adults from sexual exploitation and violent crime.
The "substantial implementation" standard recognizes that there is some latitude to approve a jurisdiction's implementation efforts, even if they do not exactly follow the specifications of SORNA. This approach allows for an individualized review that takes into consideration unique circumstances, such as funding concerns or issues with juvenile registration, and assesses the totality of a jurisdiction's efforts.
"I strive to understand the jurisdiction I am working with – customs, challenges, issues – because only by understanding and listening to a community's concerns can you effectively begin to advise on how best to address public safety," explains Fouz.
There is no typical day in Fouz's line of work, he says. Some days find Fouz at his desk for hours, quietly reviewing legislation, policies and procedures. On other days, he's advising tribal jurisdictions on how to submit offender information into national crime databases, or the best ways to work with other federal agencies to develop solutions to tribes' various law enforcement challenges.
Fouz's duties also require him to travel throughout Indian Country to meet with officials, listen to their concerns, observe their criminal justice processes and learn more about their community issues in order to help them most effectively. Often, those solutions come in the form of policies which enable tribes to receive training at SORNA regional workshops. He also provides presentations at joint training sessions with the U.S. Marshals Service on enforcement issues, giving practitioners timely analysis on court decisions and legislation that may potentially impact a jurisdiction's sex offender management program.
"The SMART Office's work has a direct impact on communities throughout the country," Fouz says. "In particular, tribal communities that prior to SORNA did not have any sex offender management programs, are building programs from the ground up with the guidance of the SMART Office. The office also is helping tribes develop systems and procedures to help law enforcement combat sex crimes and notify community members about sex offenders in their midst, as well develop reentry programs for reintegration – all of which directly contribute to public safety."
Prior to joining the SMART Office, Fouz served as an Assistant District Attorney for the Bronx County District Attorney's Office, prosecuting DNA-based crimes and a range of violent felonies, including gang-related shootings, home invasions and murder. He also handled cases involving child victims and witnesses, including child endangerment and physical and sexual abuse.
He applied to work with the SMART Office because "I wanted to move beyond the micro level of prosecuting local criminal cases and take a macro approach by devising policy that is responsive to a community's public safety needs," he says.
And while Fouz would recommend his position to many people, he notes that to be fully successful, "You need to be passionate about public safety, and have the ability to devise creative solutions to protect vulnerable populations."