On the Job
Meet Silvia Torres, OVC Victim Justice Program Specialist
By Tannyr Denby Watkins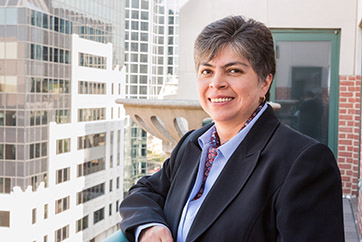 The Office of Justice Programs awarded almost $3.4 billion in public safety grants last fiscal year, providing vital resources to help fight crime and assist victims in America's communities. These funds are also being used to combat a global menace – the brutal crime of human trafficking.
One OJP employee doing her part to help combat this scourge and provide vital services to victims is Silvia Torres.
As a Victim Justice Program Specialist at OJP's Office for Victims of Crime, Torres works as part of a team that manages a $45 million human trafficking budget annually, which includes five separate programs and about 115 grants. These funds help to support survivors of human trafficking, their families and multidisciplinary task forces to combat this crime. OVC trafficking grantees served 5,655 clients from July 2015 through June 2016.
These programs complement and augment efforts across OJP to fight human trafficking, from regional anti-human trafficking task forces to initiatives aimed at reducing child sex trafficking.
"Just being one of the few six or seven members of the human trafficking team to help victims and to raise awareness about human trafficking is such a privilege," said Torres.
Torres says she is grateful for the hands-on approach OVC takes when issuing grants and providing support. "We really do so much more than just financial management for grantees. We do site visits which gives me the opportunity to meet not only with the grantees but also board members and task forces which helps me to understand the challenges and successes that each of the programs I manage may have."
There are specific qualities required to be an effective Victim Justice Program Specialist. One must be an advocate, know how to be a good steward of funds, display quality customer service and be committed to getting victims the help they need.
"I do not think we could ever automate these services," said Torres. "There is a lot of thinking and judgment involved and sometimes you have to take a step back, analyze and come up with innovative strategies to solve a problem."
There is no typical day for Torres. One day she is managing programs to provide legal assistance to victims of human trafficking and another she is redesigning a budget checklist to make it user-friendly and help reduce error. Things rarely go according to plan.
"This is why I love grants management," says Torres. "I have my to-do list and if I get one thing done, it is a miracle."
But the number one reason Torres loves her job she says is the mission.
"When I saw the job opportunity back in July of 2015, it was the name, Office for Victims of Crime, that caught my attention," said Torres. "I remember throughout the interview they talked about all the great things they do but it was their overall mission of helping victims of crime that really made me want to become part of the team."
OVC supports thousands of local victim service programs across the country and victim compensation programs in every state. Its anti-human trafficking portfolio helps the office move closer to fulfilling a long-standing commitment to serving all crime victims.
OVC is committed to enhancing the nation's capacity to assist crime victims and providing leadership in changing attitudes, policies and practices to promote justice and healing for all victims of crime.
To learn more about how OVC helps victims of crime, visit www.ovc.gov.