On the Job
Meet the People behind BJA's Bulletproof Vest Partnership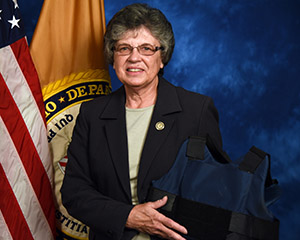 WASHINGTON -- Ballistic-resistant body armor has saved more than 3,000 police officers from death or serious injury over the past 30 years. And for nearly a decade, Joseph Husted has been doing his part to provide this critical resource to law enforcement officers, keeping them safe while they protect and serve.
As the Program Manager for the Bulletproof Vest Partnership (BVP) program at the Office of Justice Programs' Bureau of Justice Assistance, Husted helps local, state and tribal law enforcement agencies purchase ballistic and stab-resistant body armor for sworn law enforcement and corrections officers.
BVP provides up to 50 percent of the cost of bulletproof vests purchased from a standards compliance list created by OJP's National Institute of Justice.
"We receive approximately 4,500 applications a year from jurisdictions throughout the country," Husted says.
His primary role is in helping candidates with the application process, answering their questions and helping them get their application into the BVP online system before the deadline.
"To be successful at this job, having good customer service is a must," says Husted. "Getting back with someone when they have a question immediately with the right information and paying attention to detail is very important."
Husted reviews the payment requests sent in by BVP applicants. This review includes verifying the payment amount, the vest model, the number of vests ordered for a jurisdiction and the accuracy of the vest invoices. He also takes the lead on any audits or Congressional questions regarding the program and updates the Frequently Asked Questions and other information that the BVP Help Desk provides to applicants.
BVP Program Managers, past and present, have made it their mission to provide support to those applying for BVP funds because they realize what may be at stake. Since 2015, 23 officers have been saved with vests purchased in part with BVP funds.
Former BVP Program Manager and current BJA Policy Advisor, Linda Hammond-Deckard knows first-hand how important it is for the program manager to be knowledgeable and to do the job diligently.
"Before I came to work at OJP, I was a police officer and police chief in New England. As a police officer, there are times when you respond to calls where you don't know all the circumstances or what you are walking into. Sometimes you have to intervene in a domestic dispute and you have to respond to calls of fights or arguments where there are weapons involved," says Hammond-Deckard.
BVP program managers and policy advisors must constantly evaluate the program and contribute recommendations to help it become more effective. During her time working on the program, Hammond-Deckard was instrumental in the implementation of a requirement that all agencies receiving BVP funds have a written policy that requires officers to wear body armor when they are on patrol duty.
"I personally know an officer who was shot while wearing his vest. He was shot six or seven times and he suffered some horrific injuries, but he is alive today because his vest saved him," says Hammond-Deckard.
"My favorite part of the job is when we get an email, call or see a news article saying that an officer has been saved because of their bulletproof vest," says Husted. "It makes all the hard work worth it."